Now more than ever, it's important that there are new and modern home financing options. Our work economy and expectations have changed. Traditional home financing limits home buyers and sellers due to the strict rules and regulations set by large banking institutions. Seller financing can be a better alternative that puts control back into the hands of the home buyer and seller.
We at HonestDeed are here to support and guide American families towards homeownership with our modern seller financing platform — all without the worry of hidden strings attached.
What is Seller Financing?
Seller financing, also known as owner financing, is a real estate agreement made between the home buyer and seller which allows them to strike a more personal and customized deal that cuts out third party banking intermediaries. Through seller financing agreements, those on the market looking to enter homeownership will no longer need to seek a traditional mortgage loan from the bank but instead take out a loan with the seller.
With seller financing agreements, the seller becomes responsible for providing the financing. These agreements mean the buyer can successfully enter homeownership with more flexibility such as having a lower credit score that typically would be needed for a traditional pre-approved loan from the bank. Seller financing allows both the buyer and seller to skip over this unnecessary hurdle and enter deals that are decided on their terms and conditions.
Here are a few benefits that explain why seller financing is an easier, faster and better home financing option.
Benefits to the Home Buyer
There are many advantages to buyers when using a seller financing agreements. One of these is the chance to secure a loan they typically would not qualify for with a traditional bank. Unfortunately, unfulfilled expenses and debts can negatively impact your credit rating, which can keep you from securing a traditional bank loan. The rules and restrictions tied to traditional loans do not always paint an accurate or holistic picture of the buyer's financial situation. Seller financing is a great option for hopeful homeowners because they can access financing directly from the seller without the interference and permission of third parties. Through seller financing, homebuyers can contact the seller to arrange financial agreements on a more intimate and personalized level. Other benefits include:
Flexible terms (down payments, interest rate, loan duration):

 

Buyers have the chance to negotiate with the seller their down payment, interest rate and loan duration that fit their current financial situation. Seller financing allows more flexibility and eliminate the minimums that banks usually require.
Quicker closing: Buyers won't need to wait for banking and loan officers to approve lengthy application processes. The traditional process can take 60–90 days whereas with seller financing you can close in days.
Cheaper closing costs:

 

Removes or limits the need to pay for expensive bank fees, appraisal, and inspection costs. Saving you lots of money in the end.
Benefits to the Seller
There are numerous benefits for sellers choosing to do a seller financing arrangement. These include greater freedom to negotiate financial terms and the ability to save on legal fees, interest fees, and other closing costs.
Sellers are also in a position to reduce their inventory levels and boost their real estate business activity through the benefits of seller financing. Often, sellers are unable to sell their homes quickly because buyers aren't able to agree to the strict payment methods set by third-party banks. Seller financing gives flexibility to buyers, which means sellers have a higher chance of closing deals faster and more successfully. Other benefits to sellers interested in seller financing include:
Additional income:

 

With monthly payments from the buyer that include principal and interest, individuals who use seller financing can have a predictable and reliable income that will give them financial stability for years to come.
Tax Efficiencies:

 

Instead of having to pay taxes on a lump sum (like in a traditional home sale), sellers save on capital gains tax over an extended period of time.
Sellers can sell at a higher price: Seller financing allows the seller to set the total purchase price of their property. The main appeal of seller financing for potential buyers is usually the freedom they have to pay for the property while staying on budget. A lot of buyers are willing to pay higher costs for a property in exchange for flexible down payment options.
Setting higher interest rates: Much like their freedom to set the total purchase price of a property, sellers also can set higher interest rates when they do a seller financing deal. A lot of buyers entering seller financing agreements are interested in simply one thing — whether they can afford monthly payments that can fit in their budget. This usually means that interest rates are of little concern, which leaves it in the seller's hands to decide how much interest they want to charge.
Saving on closing costs and servicing fees:

 

While seller financing gives sellers extra responsibility to decide the terms of a deal, it also comes with the added freedom to lower closing costs and make extra income from servicing fees — saving them time that could be spent focusing on other areas of business. Sellers can hand over the responsibility of closing costs to the buyer, which can include servicing, processing and appraisal fees.
Sellers can save on additional costs: Seller financing allows the seller to save on costs such as homeowners insurance, property tax and home maintenance expenses.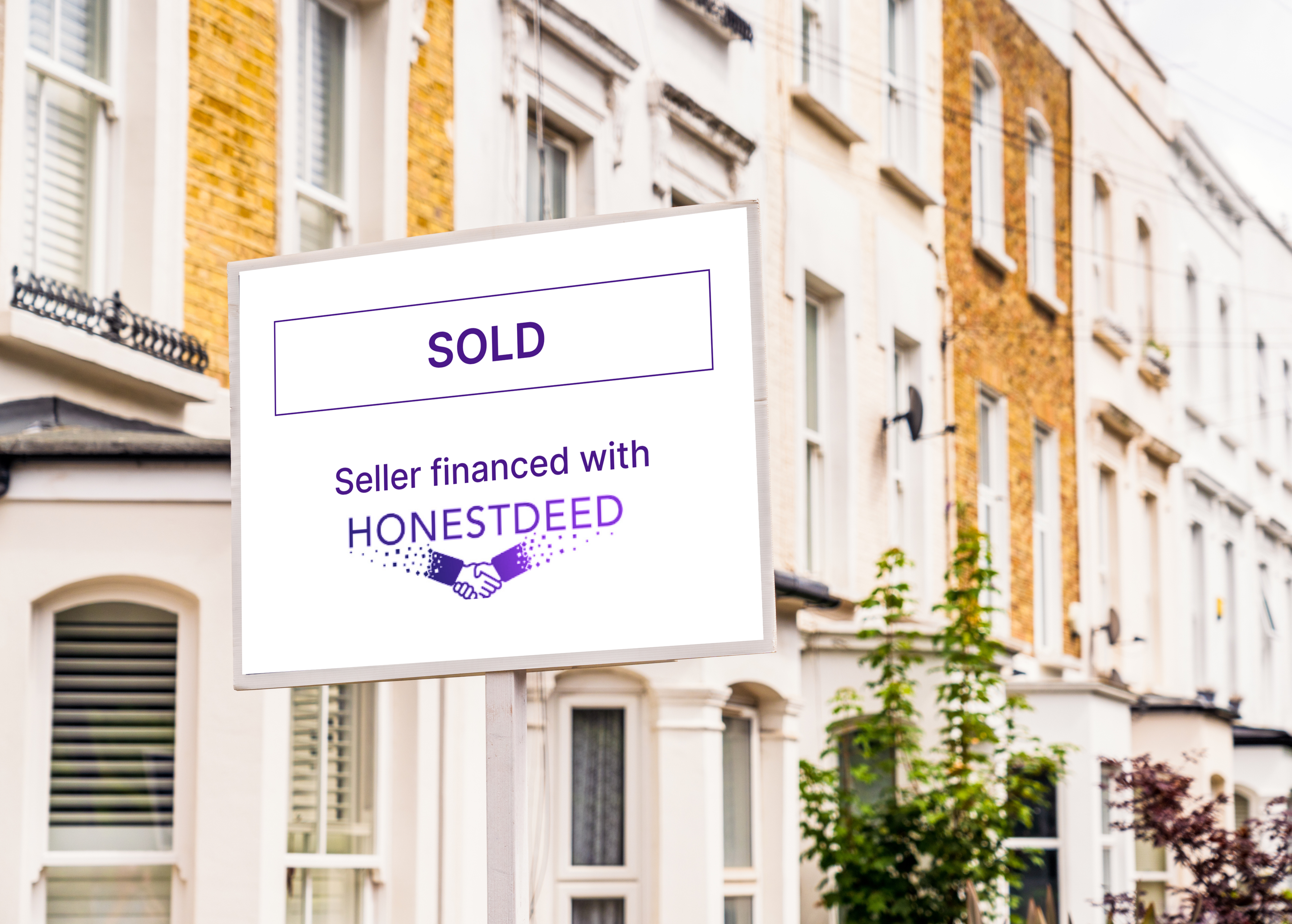 Benefits of Partnering with HonestDeed
HonestDeed is a partner to home buyers and sellers looking to enter the world of seller financing. We're here to assess the situation on both sides and provide each party with the experience needed to buy or sell your home safely and securely. With HonestDeed, you'll have access to a range of benefits and the right assistance to help you get the most out of a deal. Some of these include our ability to find the best buyers with solid finances, so you can trust you'll get good returns on your investment. We structure the best deal for our sellers to give them options that result in the best transaction possible — helping to maximize their returns and reduce taxable gains.
Sellers partnering with HonestDeed can enjoy the added benefit of streamlining their income with our app to help you get down to business and focus on what really matters. Through our app, buyers and sellers will enjoy a seamless experience — giving them access to monitor the status of the deal and manage payments in one convenient place.
With HonestDeed, you won't need to worry about obtaining the necessary documents and payments. We handle all the paperwork and endless red tape so you can focus on what matters most. We also offer sellers to complete financial health assessments on our borrowers every 90 days using our in-app performance signal capabilities — ensuring the terms of agreement are always fulfilled and you're up to date with the important facts.